2021 Schedule

Saturday Oct. 2nd
9am-6 PM
Expo and Packet Pick Up at the Boys and Girls Club in Hill City
11:30-12:30 PM
on-site registration for the Fast 5K at the Boys and Girls Club in Hill City
Pre-registered 5K Runners can pick up their race packet at Tracey Hall Park
12:45 PM
Kids 1K at Tracy Hall Park in Hill City
1 PM
Buses leave Tracy Hall Park for Fast 5K start
1:15pm
The best vacations are powered by Steam! See the
Black Hills of South Dakota by rail. Experience a historic,
breathtakingly scenic, relaxing vintage steam train ride your family will never
forget. Departing Hill City at 1:15PM. Reservations are recommended
5-7 PM
PASTA BUFFET and Crazy Horse Memorial (Advance ticket sales ONLY)
SUNDAY ~ OCT. 3rd
7am
START LINE BUSES leave from Palmer Gulch and Ranger Field in Hill City. Free Parking at Crazy Horse Memorial and Hill City (Ranger Field) on race day. Buses WILL leave ON TIME. Ranger field is off of Major Lake Road in Hill City. Football field parking lot.
8:00 AM SHARP
START TIME for MARATHON, HALF MARATHON and MARATHON RELAY.
NO PETS or STROLLERS ON THE COURSE
11 AM TO 3:00PM
Free bus service from Finish Reunion Area to Ranger Field, Palmer Gulch, and Crazy Horse Memorial Parking Lot.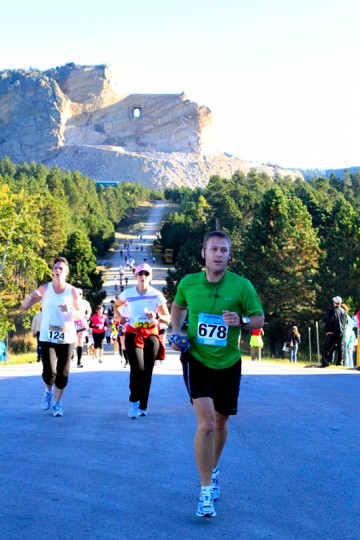 PACKET PICK-UP:
Boys and Girls Club Gymnasium
297 Walnut Ave Hill City, SD 57745
Corner of Railroad Ave and McGregor (Across from the 1880 Train)
Hill City, SD
---